DOUZE G4 (Family), the universal cargo bike
A true rival to the car, the DOUZE G4 is your favoured ally for daily family trips.
Its suspended fork and reinforced frame provide unequalled comfort and road holding. Its pared-down design highlights the essential nature of the functions, with two types of frame: the Messenger with its high bar for a radical, sporty look or even the Traveller and its open frame for varied use and ease of mounting – everyone gets their choice.
Its electric motor, flexible, long-lasting and powerful, will make you forget you are carrying even the heaviest of loads. This is your best tool for contending with the city or getting away from it all on country roads in total safety.
For the comfort and security of your children
The seat is equipped with two 3 point seat-belts which are adjustable; the buckle is easy to secure thanks to two magnets. Only an adult could open the system. The seat can be adjusted into six different heights, allowing for their ultimate comfort and security, whatever their age.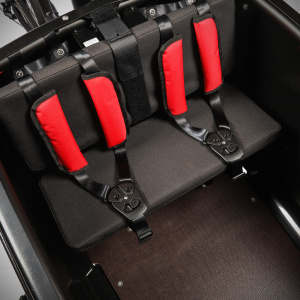 High performance motor with Shimano STePs
The DOUZE V2 is equipped with electric assistance. This progressive and powerful motor takes the strain out of pedalling and makes you forget any weight being carried on your cargo bike. With greater ease when moving off and dealing with inclines during your journey, it extends your possibilities during trips. With so much independence at your hands, you will never run out of energy!
The Shimano STEPS e8000 (max. torque 70 Nm) is the most powerful motor from the Japanese firm. It offers a beautiful integration of all its components. Its energy management with Bluetooth connectivity provides more data and settings on your Smartphone to help you in your daily life under the best possible conditions.
Shimano is the world leader in bike components and is an indispensable player in motor systems.
Secure and comfortable cable steering
The DOUZE G4 system of cable steering was created by DOUZE Cycles in 2012. This technology is proven to increase the ease of handling and a feels closer to a traditional bike.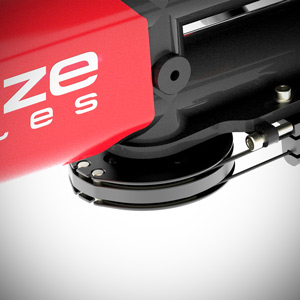 The steering via cables developed by DOUZE Cycles offers unparalleled handling. Flexible and precise, it allows on-the-spot turning of the bike. Whether to manoeuvre, park on a pavement, do a turn or negotiate the chicanes on cycle paths, you get the impression of riding a conventional bike.
Regardless of being empty or heavily loaded, steering remains intuitive. You will be surprised at how easy the DOUZE G4 is to steer.
Suspension fork
No matter where you go, the new suspension fork provides great comfort and easy handling. The suspension fork is specifically designed for the DOUZE G4, and integrates with the cable steering. More experienced riders will appreciate that it is adjustable and lockable.
The DOUZE G4 is equipped with large tyres, which are hard-wearing and easy to ride. Its raised ground clearance provides it with total threshold crossing, so nothing can stop it. Cycling in town, in the suburbs or if you want to go off the beaten path, you can ride on all types of terrain of your own free will.
Choose your configuration below.