Douze G4, the universal cargo bike
The Douze G4 possesses all of the assets to become your favourite vehicle and is a true alternative to a car.
A generous and versatile box

The Douze G4 has a large storage area of 270 litres which can be locked to effectively secure its contents. Thanks to the innovative lid and the partial opening, there is no need to choose between transporting the children and having a completely closed compartment: both are possible in one trip.
For the comfort and security of your children
The seat is equipped with two 3 point seat-belts which are adjustable; the buckle is easy to secure thanks to two magnets. Only an adult could open the system.
The seat can be adjusted into six different heights, allowing for their ultimate comfort and security, whatever their age.
G4e | German quality electric system

The large industrial company Brose has been developing electric motors for bikes for many years. Today it is a major player in this sector and their motor BROSE DRIVE was created out of rigorous development of precision equipment. One of the principal qualities it offers is one of the most advanced couples on the market,  a criterion which is very important for cargo bikes.
The motor is very quiet, thanks to the carbon drive belt, delivering powerful assistance in proportion to the effort of the cyclist, up to 25 km/h and without resistance. A new firmware was developed especially for the G4 for the use of cargo bikes.
The compact design of the BROSE motor allows optimal integration on the frame and significant weight gain. The motor is assembled entirely in the BROSE factories in Berlin, proudly stamped Made in Germany.
The battery uses the new technology Li-ion Graphene for an increased energy capacity. The G4 is made to house an extra battery allowing it to reach a total capacity of 1270 watts. (2 X 635 Wh). This equipment makes the G4 the cargo-bike the most autonomy on the market.
The engine
Display
Secure and comfortable cable steering

 The Douze G4 system of cable steering was created by DOUZE Cycles in 2012. This technology is proven to increase the ease of handling and a feels closer to a traditional bike.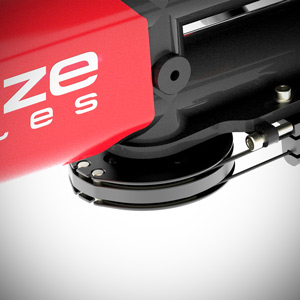 Cable steering provides exceptional control. The angle of rotation of the fork rotates up to  75º to the right and left. At a low speed, you can manoeuvre freely and do a u-turn even on narrow roads. The steering stays tight and predictable as the speed increases. Compared to a classic steering system, the handling of DOUZE much more intuitive.
Suspension fork
No matter where you go, the new suspension fork provides great comfort and easy handling. The suspension fork is specifically designed for the Douze G4, and integrates with the cable steering. More experienced riders will appreciate that it is adjustable and lockable.