The evolving and modular DOUZE: The cargo bike with infinite possibilities
The DOUZE V2 is a unique model in the cargo bike market, by being separable into two parts in less than 3 minutes. This is a major advantage when transporting, storing it and adding to it. It is also the focus of innovations developed by DOUZE Cycles, such as steering by cables and the rear scalable frame.
High performance motor with Shimano STePs
The DOUZE V2 is equipped with electric assistance. This progressive and powerful motor takes the strain out of pedalling and makes you forget any weight being carried on your cargo bike. With greater ease when moving off and dealing with inclines during your journey, it extends your possibilities during trips. With so much independence at your hands, you will never run out of energy!
The Shimano STEPS e8000 (max. torque 70 Nm) is the most powerful motor from the Japanese firm. It offers a beautiful integration of all its components. Its energy management with Bluetooth connectivity provides more data and settings on your Smartphone to help you in your daily life under the best possible conditions.
Shimano is the world leader in bike components and is an indispensable player in motor systems.
Infinite number of combinations
The DOUZE V2 has been designed to reflect you. Choose the length of the front frame, the shape of the rear frame, the colour and any components from the menu. Its open platform accommodates a multitude of compatible pieces of equipment.
With its lockable box, the DOUZE V2 knows how it is done and does so perfectly. You are unique and so is your DOUZE V2! For each use, there is a solution.
The DOUZE V2 Classic is an extremely accessible cargo bike. With its simple and robust design, it is driven by muscular force. Whether you are sporty or love Sunday rides, the DOUZE V2 Classic is made for you. Its rear Open frame allows it to switch, if you wish, to electric assistance while pedalling.
Quick split system
DOUZE Cycles is the only cargo bike manufacturer to offer such an innovative system.
Quick split system allows you to remove the front frame from the rear frame in under 3 minutes.
You can then easily take your DOUZE V2 on holidays and park it wherever you are staying. This innovation also gives you the opportunity to switch the frame according to your needs, for example, as your family grows, you can graduate to a front frame of 600 to 800mm.
Cables steering system
This exclusive steering system by cables offers exceptional manoeuvrability!
Steering by cables, developed by DOUZE Cycles, allows turning of the front wheel by 75° to the left or the right for exceptional manoeuvrability and turns in confined spaces.
This system is adjustable, requires little maintenance and up to any challenge, with its stainless steel reinforced cables and Kevlar sheathing.
One frame with multiple combinations.
The rear frame of a DOUZE V2 is supplied with an interface allowing changes to the transmission.
According to preferences, you can install a conventional chain set, a gear box or a central motor, all while keeping the same frame. With this innovation, you are assisting sustainable development.
Aluminum case KEP 600 or 800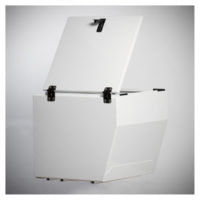 The fully welded aluminium KEP body takes the form of the frame for enhanced aesthetics and load optimisation. Thanks to the offset of the opening on the front part, you can use this box with 60 or 90mm brackets to keep a "sport" position. The large load volumes, 200 L for frame 600 and 250L for frame 800, allow to carry a maximum of fully protected from the elements
RHINO 800 aluminum case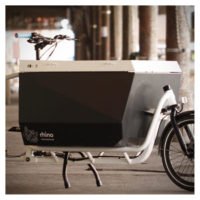 The RHINO cash register box is made in Berlin
Aluminum 1,5 – 3 mm
Metallurgical company DIN EN ISO 9001: 2008 certified
Riveting technology for easier parts change
Powder coating based on automotive body quality
Sliding system with dampers
Mechanical locking system (Southco lock)
Classic Aluminium case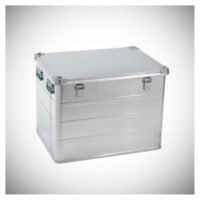 The aluminium case ALUBOX is simple and resistant. Available for all three frame lengths, this is the most economical way to start an activity.
Alubox 600x400x600 – 140 L
Alubox 600x600x610 – 156 L
Alubox 800x600x610 – 216 L
Choose your configuration below.