The Douze V2 UP is a sturdy yet fast and great looking bike with a slightly more aggressive riding position.
The Douze V2 UP range has been created to meet the needs of most demanding users. Whether you use your cargo bike for work or just a commute, the Douze will keep up. A true all-purpose cargo bike, with three sizes of front frame to choose from.
Test riding is highly recommended. You will be pleasantly surprised.
Brakes
Hydraulic disc brakes are a must on cargo bikes. The Tektro GEMINI hydraulic disc brakes provide safe and powerful braking. If you desire even more braking power you can opt for MAGURA disc brake upgrade with 180mm discs.
Steering
The EASY UP steering column allows you to change the height of your handlebar without tools. Adjusting your riding position is quick and easy.
To optimise your riding position even further, you can also choose from two handlebars and three stem lengths. Flat for a more sporty or Moustache for upright riding position.
Aluminum case KEP 600 or 800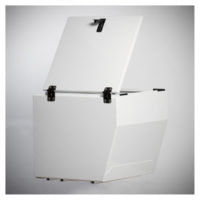 The fully welded aluminium KEP body takes the form of the frame for enhanced aesthetics and load optimisation. Thanks to the offset of the opening on the front part, you can use this box with 60 or 90mm brackets to keep a "sport" position. The large load volumes, 200 L for frame 600 and 250L for frame 800, allow to carry a maximum of fully protected from the elements
RHINO 800 aluminum case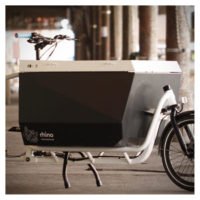 The RHINO cash register box is made in Berlin
Aluminum 1,5 – 3 mm
Metallurgical company DIN EN ISO 9001: 2008 certified
Riveting technology for easier parts change
Powder coating based on automotive body quality
Sliding system with dampers
Mechanical locking system (Southco lock)
The SOFT BAG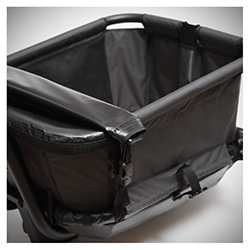 The SOFT BAG is a waterproof, lightweight and durable fabric basket. Lined on the sides to ensure a curvy shape, it will withstand the weather and protect your children comfortably inside.
The SOFT BAG attaches quickly thanks to the bands sewn with Velcro. Securely attached to the BOTTOM SIDE TUBE and TOP SIDE TUBE you will never have to retighten it. It has a pocket on the back, allowing you to protect your phone and your papers.
The TOP COVER will close the entire body, with 6 adjustable clips, fixed on the base of the cargo. Fabric loops on the upper part will allow you to strap an additional package on it if necessary.
Classic Aluminum case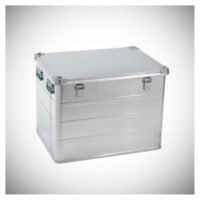 The aluminum case ALUBOX is simple and resistant. Available for all three frame lengths, this is the most economical way to start an activity.
Alubox 600x400x600 – 140 L
Alubox 600x600x610 – 156 L
Alubox 800x600x610 – 216 L
Choose your configuration below.