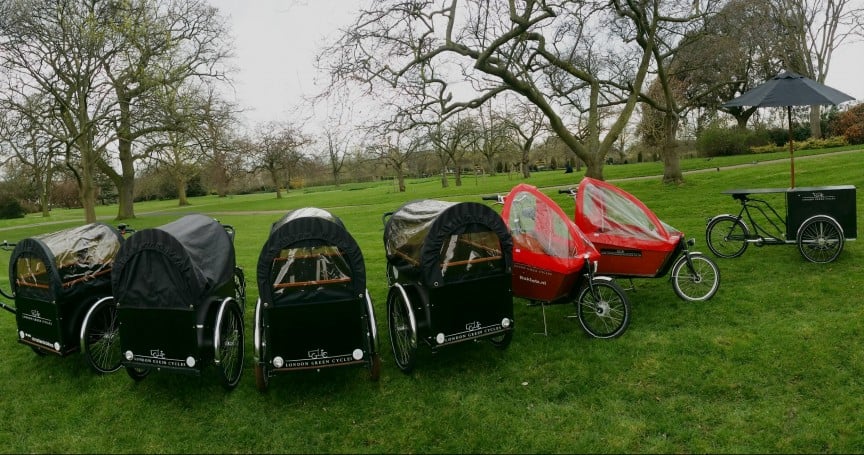 Hire
Welcome to London's biggest cargo bike hire scheme!
Christiania Straight Electric
Christiania Straight
Christiania Cargo
Bicicapace Classic
Nihola Family Electric
Bakfiets Long STePs
Bakfiets Short STePs

Standard bicycle
This service is for anyone wishing to hire a bike for occasional, recreational or business use. Our fleet consists of 3wheelers (Christiania, Nihola), 2wheelers (Bakfiets, Bicicapace, Douze), electric and non-electric. We also have a few standard bicycle to hire. We offer short or long term hire plans as well as delivery and free training. Insurance, helmets, lights, baby seats and locks are included in the price. We'll refund the cost of hiring (up to one week) when you buy a new model from us.
Thinking of buying a box bike for the school run?
Buying a box (cargo) bike is a big decision (although undoubtedly one of the best decisions you'll ever make) so if you're considering a purchase but are still unsure, hire should be your next step. Try your usual routes, check the parking, see the
smiles
and hear the
giggles
of
your children
, this experience is priceless.
One week hire is FREE when you buy one after.
We'll provide all the necessary accessories and equipment to get you around safely and happily. The cycles for family use come with seats and safety belts, and all are provided with rain covers to keep your precious cargo protected. You can learn the basics in our traffic free test riding area where our staff will answer your questions and address any concerns you may have.
For those unaccustomed to cycling in London, we know it can seem a bit worrisome, but rest assured that a cargo tricycle is one of the safest cycles to ride.
Read more...
FREQUENTLY ASKED QUESTIONS
How much in advance should I book my hire?
We advise you to book your bike no later than a week in advance to avoid disappointment. Please use this form to ease the process.
What documents do I need to bring with me?
The payment needs to be made by credit or debit card, we will keep the card details as a security deposit. And you will also need a valid photo ID (drivers licence, passport, ID).
What kind of bikes do you hire?
We have a fleet of identical Christiania tricycles that can accommodate up to 4 children. These are also suitable for commercial as individual bikes or the whole fleet (5). In addition we have a Bakfiets long and short that can carry max 2 children each. We also have a Bicicapace, a sound bike and a Market Stall.
Find out more on the hiring process.
Do you hire bikes to businesses? Our company would like to trial three at a time
Businesses represent a large proportion of our rental service users. For businesses wishing to trial cargo bikes in their day to day operation all bikes can be supplied without seating and branded (for additional cost). Staff training and bike delivery to your door can also be easily arranged. Past hire examples include parcel / food / flower deliveries, photo shoots / filming, marketing campaigns, product sampling, info point, magazine / leaflet distribution and many, many more.
Can we hire a branded bike?
We provide full / partial box branding as well as umbrella and/or hood printing. Please bare in mind the additional cost of branding.
Can I rent an Ice Cream, Coffee, Mobile Kitchen tricycle?
Unfortunately custom tricycles are not available for a short term hire. However do not hesitate to contact us with any custom bike related questions.